Merenda win a 2019 Business All-Star Award
On Thursday, 2nd of May Merenda were awarded overall winner of the All-Star Business Award for Manufacturing. Needless to say, we are extremely proud of this achievement and it is a testament to everyone in the entire organisation for all the years of hard work and dedication that we can now proudly hang this All Ireland trophy at our office in Manorhamilton, Co. Leitrim.
Our team has been very busy over the last number of months working with the All-Ireland Business Foundation to achieve our Business All-Star Accreditation Certificate. This accreditation is an outstanding achievement and recognises the hard work and dedication of the Merenda team in providing a best in class service to all our customers. We received our official accreditation certificate at the awards ceremony in Croke Park on Wednesday May 1st.

Business All-Star accredited companies are defined as; progressive, indigenous Irish businesses which meet the highest standards of verified performance, trust and customer centricity. In achieving this accreditation, we join a unique group of businesses and we believe this continues to demonstrate our commitment to improving our service to our customers and suppliers.
The three pillars of All-Ireland Business All-Star accreditation are Performance, Trust and Customer Centricity. Once accredited, we then went on to win the overall award in our category; Manufacturing at the awards ceremony on Thursday May 2nd; the fifth annual All-Ireland Business Summit and Business Awards event.
Ronan Haslette, CEO of Merenda said after the win;
"For the past 10 years, we have worked really hard to embrace and embed principals of lean manufacturing in our production plant. We are delighted with this manufacturing award as it is validation for all the hard work and the continuous improvement ethos of the Merenda team. It gives us great motivation to build for the future and our international growth plans up to 2022 and beyond"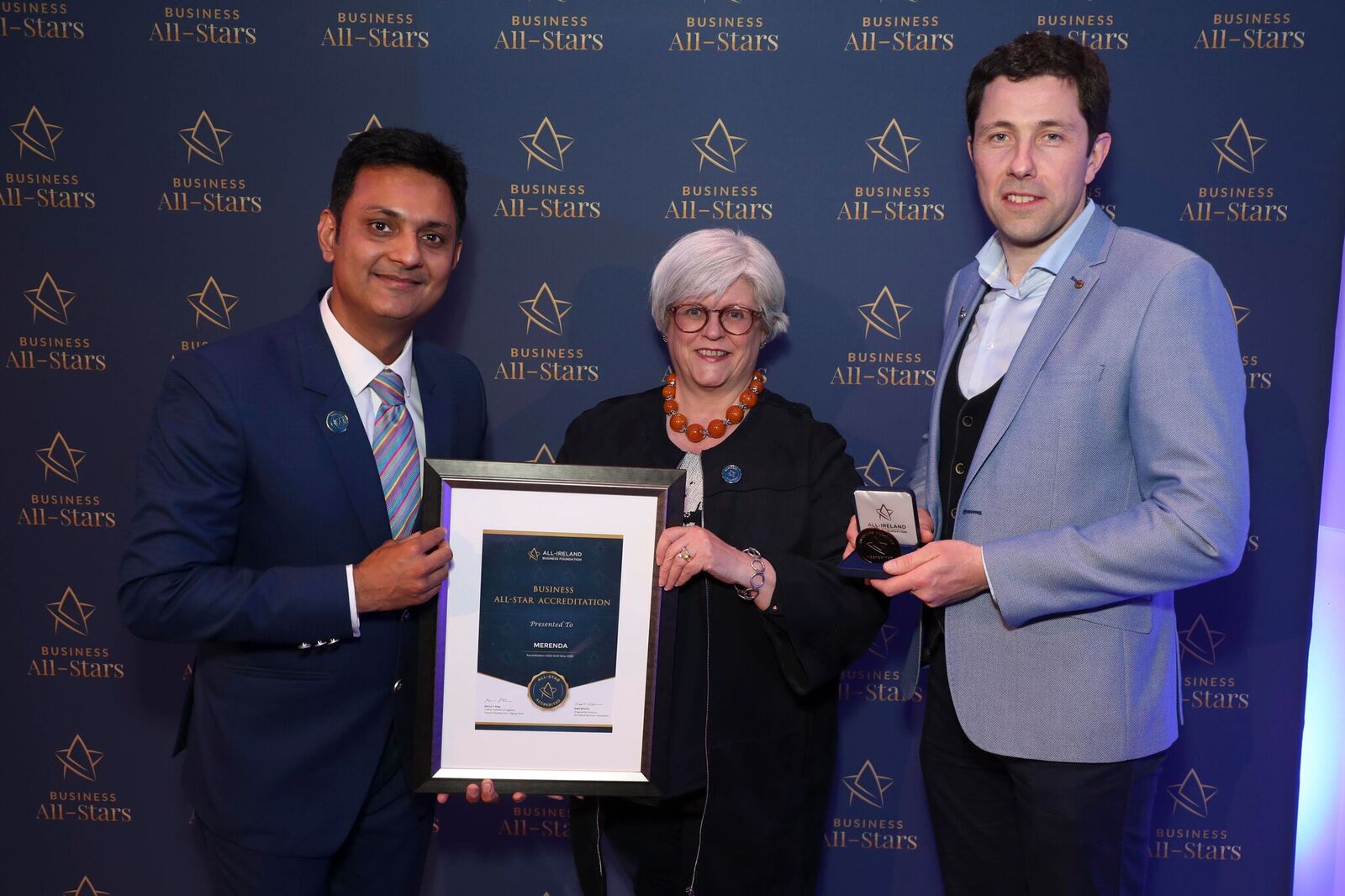 The networking and collaboration element of the annual Summits led to the establishment of the All-Ireland Business Foundation, which has accredited 350 companies. Speakers over the course of the two days included Mat cooper, Keith Barry, Pat Phelan, Eleanor McEvoy, Mairead McGuinness, Anna May McHugh, Ivan Yates & Samantha McCaughren.
Vice-President of the European Parliament, Mairead McGuinness MEP, who presented the award to Merenda, said the commitment to quality of the small to medium enterprise sector was critical to the Irish economy.
"Ireland has the fastest growing economy in Europe and one of the fastest rates of business start-ups," said McGuinness.
"Small to medium enterprises make up 99% of Irish businesses and their importance to the Irish economy can never be understated.
"I am very proud of all the businesses here today, their commitment to quality, as evidenced by gaining these coveted All-Ireland Business awards, will ensure Irish SMEs continue to grow."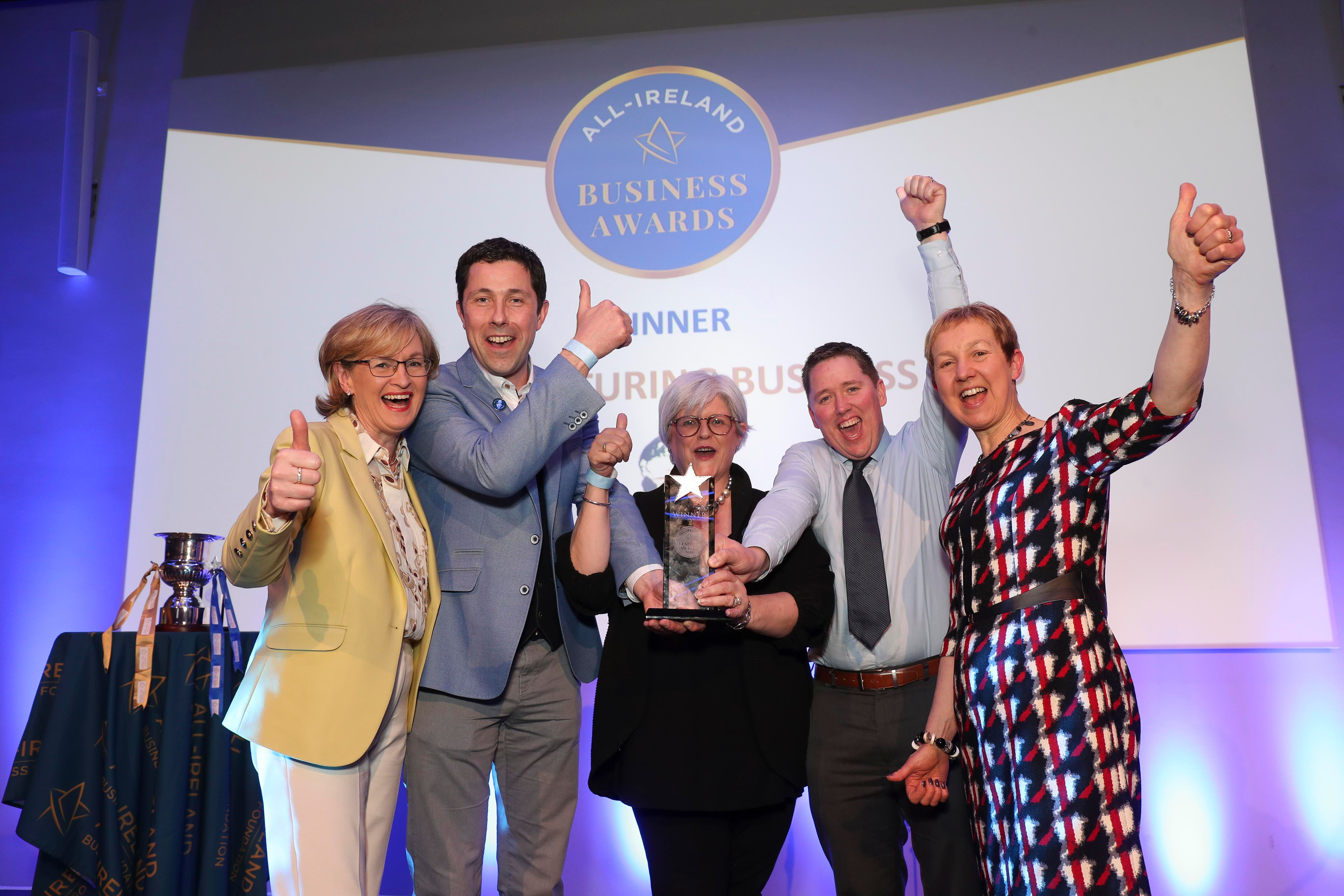 Mairead McGuinness, Vice-President of the European Parliament Pictured from Merenda Ronan Haslette, CEO, Margaret Trainor, Director and Frank O' Hara, Sales Manager.